Woman Checks Live Camera Feed, Catches Her Boyfriend Cheating with Another Woman That Minute On Their Vacation
Woman Checks Live Camera Feed, Catches Her Boyfriend Cheating with Another Woman That Minute On Their Vacation
Beautiful cruise vacation, Kayla Gardner and her boyfriend were looking forward to a memorable time together. They were sailing on a big ship, exploring new places, and sharing precious moments. Little did Kayla know that her dreamy holiday would soon become a rollercoaster of emotions.
One sunny day, while enjoying the cruise's delights, Kayla's boyfriend excused himself to grab some food. He promised to be back soon, leaving Kayla and her friend chatting happily in their cabin. As they relaxed, Kayla's friend switched on the TV and stumbled upon something unexpected.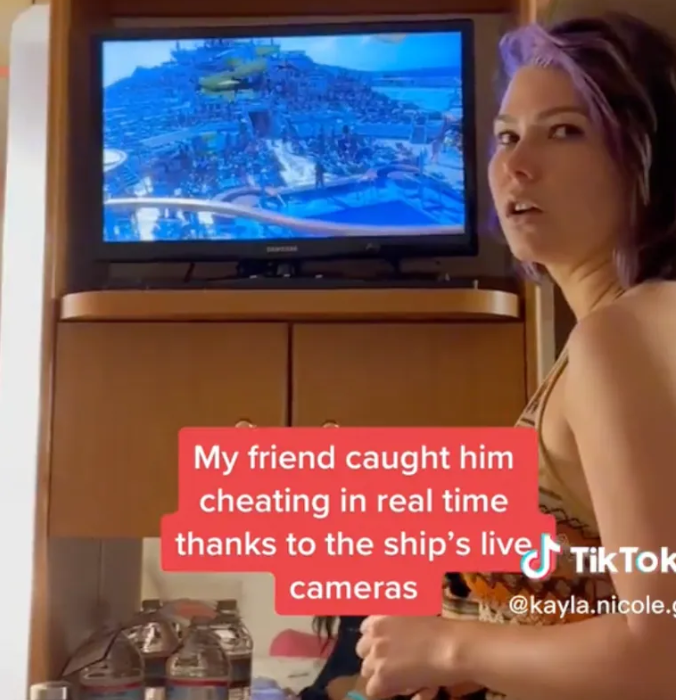 To their surprise, the TV showed a live camera feed from the ship's deck. Kayla wondered why the cruise needed cameras, but her friend noticed something peculiar. There, on the screen, was Kayla's boyfriend, standing close to another woman near the pool area. Kayla's heart sank.
With tears in her eyes, she couldn't believe what she was seeing. Her boyfriend was acting cozy and comfortable with the other woman. It was a painful sight that shattered her trust and happiness in a matter of seconds.
Kayla's friend quickly recorded the heartbreaking scene on her phone. She decided to share it on TikTok with the title "Exposing cruise cheater." The video spread like wildfire, reaching millions of people across the internet. Many expressed sympathy for Kayla and shared words of encouragement.