"Meghan Markle's Hidden Agenda? The Explosive Texts to King Charles III That Could Shake the Monarchy
Meghan Markle, the Duchess of Sussex, has been keeping in touch with King Charles III, her father-in-law, by sending him texts with updates on her children, Archie and Lilibet, according to a royal source.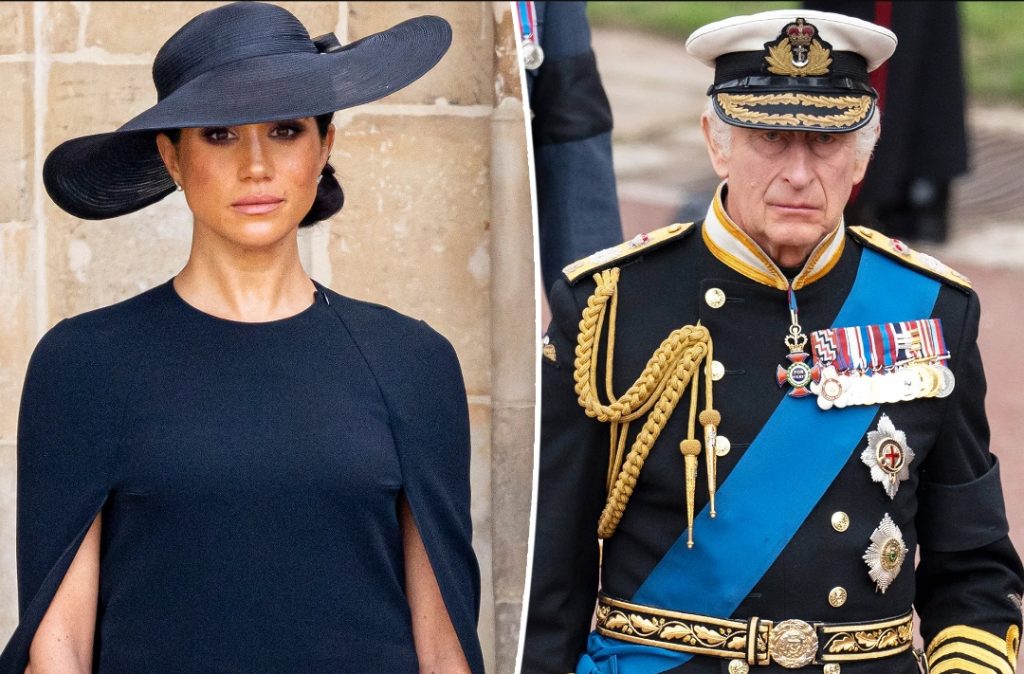 The source told the Express that Meghan Markle wants her children to know their grandfather, especially since they are not going to know their other grandfather, Thomas Markle, who has been estranged from the Duchess for years.

According to a report by Express, the source also said that Meghan Markle hopes that her decision to stay in California with her children during the King's coronation in May 2023 will be seen as an unselfish one, as it was best to keep the attention on His Majesty.

Prince Harry, the Duke of Sussex, attended the coronation on behalf of his wife and children, and also celebrated Archie's fourth birthday party in the UK.

The coronation was the first opportunity for many royals to meet Lilibet, who turned one year old in November 2023, and also the first time for the King to meet his granddaughter and namesake.
The source said that the meeting was "very emotional" and "very, very special" for the King, who was "absolutely thrilled" by the visit of the Sussexes. The source added that the King also enjoyed spending time with his grandson, Archie, who is now three years old.

The relationship between the King and the Sussexes has been strained since they decided to step down from their roles as working royals in 2020 and moved to the US. In a bombshell interview with Oprah Winfrey in March 2021, the Sussexes accused an unnamed royal of making racist remarks about their son before his birth and said that the royal family failed to support Meghan Markle when she had suicidal thoughts. Prince Harry also said that his father stopped taking his calls and that he felt "let down" by him.

However, the royal source said that there is now "more than ever, a willingness to try and have a relationship" between the King and Prince Harry, and that Meghan Markle does not want any more rifts. The source also congratulated the Sussexes on their financial independence, which they achieved by securing multi-million pound deals with Netflix and Spotify.

The Sussexes have been mostly low-key during their visit to the UK, and only attended a thanksgiving service at St Paul's Cathedral during the Jubilee, where they sat apart from the King and the Duke and Duchess of Cambridge. They did not take part in any other public celebrations.

They also shared the first photograph of Lilibet in December 2022 on a festive card, where Archie was also pictured. The Sussexes have been living in Montecito, California, with their two children and their dogs.